Pierre-Elie de Pibrac Interview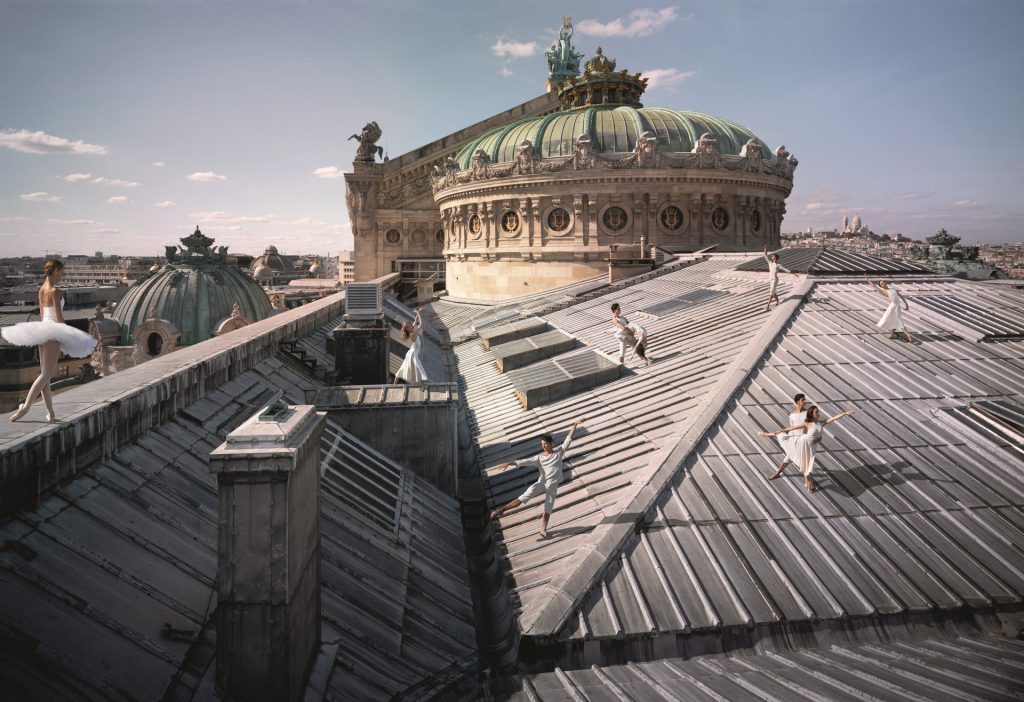 - What research did you carry out on ballet during the two years before you started this project?
First, I would like to say that the idea of this project is the idea of my wife. In 2009, I took Olivia, who would become my wife later, to the Palais Garnier to see "Le Parc" by Angelin Preljocaj. She inspired me to create a photographic work around dance to give to her as a beautiful gift. For the researches, I watched at lots of movies, documentaries and photo projects. The one that taught me the most was the movie L'âge heureux, one of my wife favorite movies when she was young. I really enjoyed it and it was the movie that led me taking the picture on the roof of the Palais Garnier!
- How did you present yourself to the director of the Opéra de Paris, Brigitte Lefèvre? What was her reaction?
I didn't really know what to do at that time. I had imagined some pictures. I put some references and told her that it would be scalable. That it could change at any moment. She told me that I had a free hands to do whatever I wanted. I was really lucky, she was wonderful to me.
- What did you want to capture there? Why did you shoot in black-and-white?
Confidences is a black-and-white series that deals with the intimacy of the dancers. It is their everyday life. I decided to do it in b&w because I wanted to focus solely on them, on their universe and on the contrast of light that exists there. There are a few portraits that I shot in color but these were used at the beginning of the book with the interviews.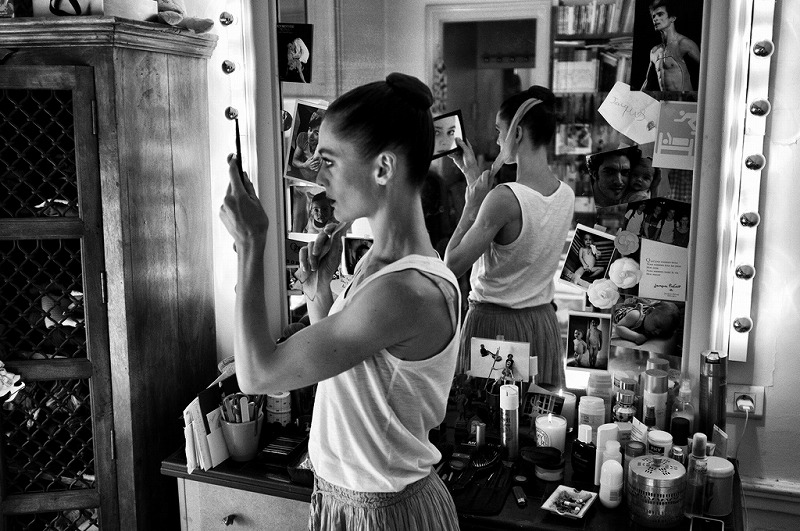 - Please tell us why you named the series Catharsis and tell us what the concept behind the work is. How and why did you create the blurred images?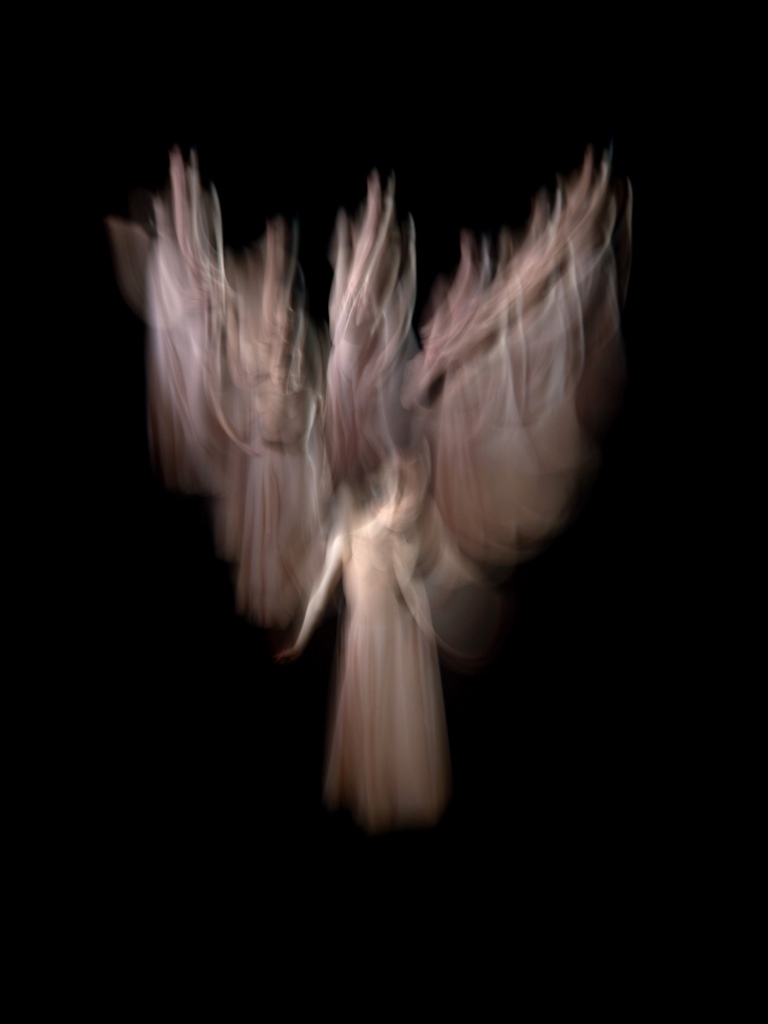 Catharsis is a very personal and abstract approach to dance. Employing a new vision and technique, I attempted to capture the energy radiated by the dancers during their performances and its diffusion into the surrounding space. Each ballet imbued me with strong emotions, urges, apprehensions and fantasies that I tried to transpose into photographic thoughts, like childhood memories. The result is powerful images that, through their distortion and natural abstraction, tell other stories. Thus, when looking at these photographs, the observer is filled with the energy and emotion that they transmit, and left free to interpret the photographs on a personal level. It is called Catharsis because everyone can appropriate the pictures and make them their own.
- Please tell us what you mean by the title. Also, what did you try to draw? Did you plan the shooting location, composition, and dancer's poses in advance?
Analogia is a group work created with eleven dancers at the Opéra de Paris. It is a series of staged settings photographed using a view camera that has been "tampered with" to give a unique and very wide angle of view. This allowed me to capture the immense size of this historic theatre while respecting its proportions and lines, an essential condition in order to pay tribute to this majestic and unusual building. The beauty and magic of the Palais Garnier inspires each generation of dancers, thus, by magnifying the space, I attempted to bring out the influence that this theatre has on the artists who flourish there. Therefore each dancer was carefully positioned, and repositioned, in the Palais Garnier's "enveloping" architecture in order to emphasize its grandeur and the weight of its history on the artists who reside in this legendary place. I settled on every location and position in advance with my wife, Olivia, then I showed these to the dancers who improved them to make them more relevant. I did some drawings to show the dancers what I wanted and we "booked" the places 2, 3, 4 months in advance to shoot them! That is why I did the one on the roof of the Palais Garnier the day my daughter was born!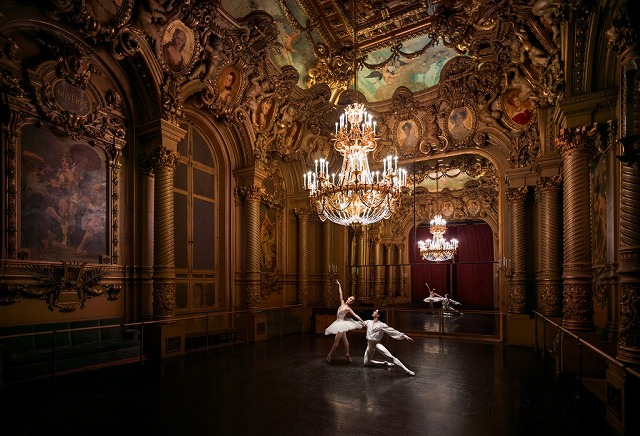 - Please share any other memorable episodes you experienced during the production.
I had so many!! Doing the picture on the roof top of the Palais Garnier was the most memorable! It was such a good time that the dancers stayed a long time on the roof and even made a video for the birth of my daughter!! We were really free and enjoyed this unique moment a lot.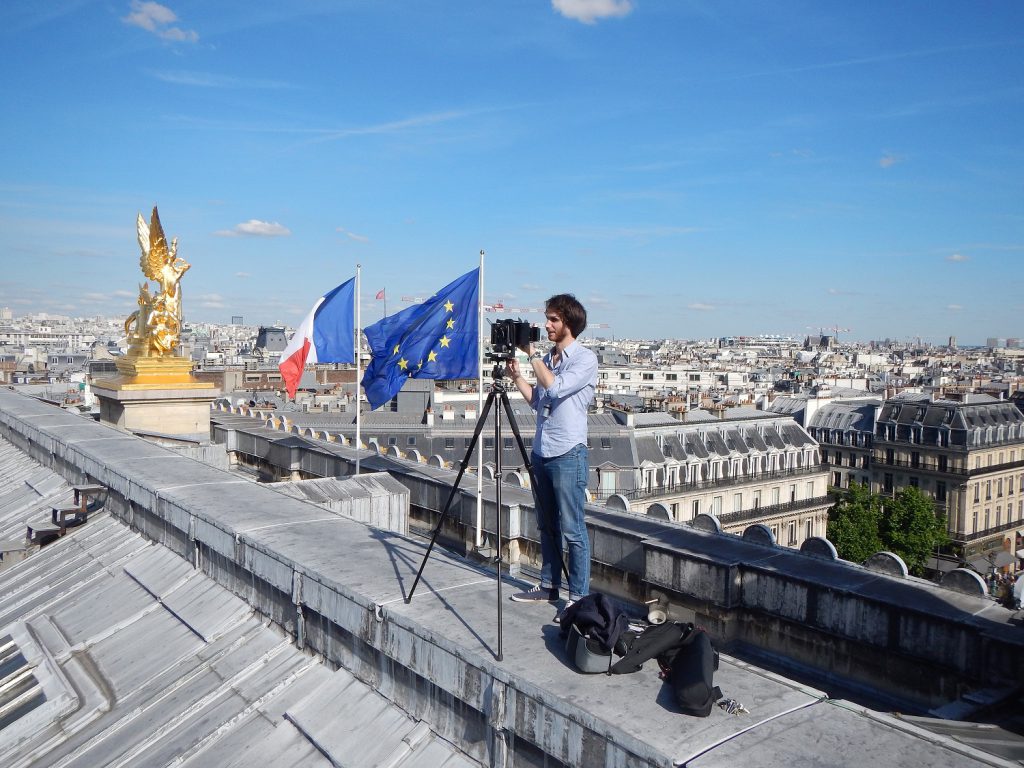 - How was it working with the curator, India Dhargalkar?
It was wonderful. She had many great ideas and understood the project very well. She realized how I wanted to show the work and use this unique opportunity that had been offered to me to show so many pictures together and to present lots of new ones.
- Please tell me about the episode in which you discovered a photograph by your grandfather, Paul de Cordon, in the attic of his house. For example, how old you were at that time? What kind of situation was it and what kind of photograph? In addition, what was it that so fascinated you about your grandfather's photographs?
This is a very recent story, last year I decided to have a closer look at my grandfather's work as I only knew his most famous photographs. I decided to visit his darkroom, that had not been opened since the 90's, and there I discovered lots of pictures, more than 200,000! To be precise, I discovered negatives and prints everywhere in the house where he used to live and also in his country house. There were negatives and prints everywhere, from the basement to the attic! While looking at his photographs I remembered a work he did on gypsies that I had seen when I was young. Nobody knew anything about it, but I remembered it and one day I was on the top floor of his ancient house when I had a "flash", as we say in French, I remembered! It was behind the curtain over an old chimney, I moved away everything that was in front of it and there they were! 900 negatives of the first photo report he did after WWII, in 1959 when he was an assistant movie director. And this was only a small story in his incredible life, or I should say of his numerous lives! He is the most impressive man I have ever met, an aristocratic, cool, elegant photographer! I am impressed by his photographs because he was many years in advance of his time, worked really closely with his subjects and was a great writer; he spent more than 30 years with his friend's circus and also more than 30 years at the Crazy Horse cabaret in Paris in order to make an impressive work about it.
- Which artists and work influenced you the most?
I have always liked going to exhibitions and reading photobooks, in fact you could say photobooks are my passion. I have more than 300 of them and most of them are original, signed copies. So I have been influenced by many photographers and I must say that I am able to imagine my projects more than a movie director can imagine his movies. I also read a lot. It depends on the project, for example I was strongly influenced by Walker Evans for Desmemoria and right now I cannot make anything without looking at my books of the writer Nicolas Bouvier.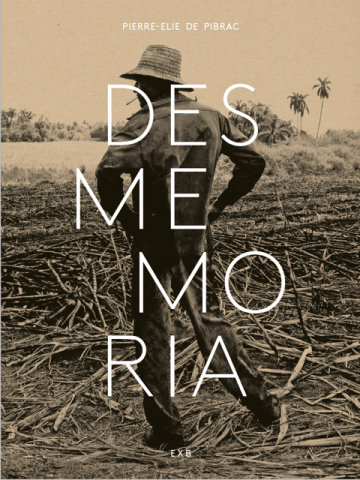 - You made your first works in Cuba and Myanmar,. What made you decide to work in these places?
Those were the beginning of the beginning, I was not even sure I wanted to be a photographer, I was a student and when I went to Cuba it was with my family, it was our first family trip together. I took pictures at La Havana for 2 days simply because I was there, but I didn't have any particular project. In the case of Myanmar, my friend, Guillaume, suggested that I should go somewhere with him and do a project to see if I really wanted to be a photographer before I started work at a bank. I listened to him and went with him to Myanmar. While I was there I decided to create a series that I later presented in some photo contests. I won some of them and that was the moment when everything started!
Others
- Do you think of your work as a documentary?
I think it lies somewhere between documentary and pure art. I put always the human in the center of my works and make a testimony but I also need to express my feelings by doing creative series.
- You once said that you could not have taken Henri Cartier-Bresson's The Decisive Moment in answer to a question from Vogue magazine. Please tell us why you think this.
I really like HCB and I am very impressed by him, even though I prefer Robert Doisneau from that time. I am not a photographer who takes pictures of what he sees every day or who catches a moment without a clear motive. I need to take pictures of something that fits my project. I never have a camera with me except when I am doing a job and I only shoot pictures linked to the project, even if there is something interesting going on. It is strange but that is how it is!
- What are the differences between holding an exhibition and producing a photo book? Are there any points you are careful about?
They are very different but essential. I need to make people dive into my project through the exhibition and the prints. I work a lot on my prints, it takes more than a year from taking pictures to releasing the first prints! And I need to tell all the stories to make the reader understand the entire project and to enter fully into the world of the subject. For me the book is the last step of a project, the quintessence! The book also provides the opportunity for me to invite a writer to interact with the project and to present a different point of view. Olivia and I think about this from the beginning of the project, it is always somewhere in our minds even though it is the last step!
- You are presently working in Kyoto. Please tell us why you became interested in Japan and Kyoto.
We could have gone to Tokyo but with two kids we chose Kyoto, it is more relaxing, I think, and quieter. The kids enjoyed it a lot and we live in a great, typical Japanese house, it is wonderful! Cold but wonderful! Having the opportunity to come to Japan for the exhibition we couldn't miss the opportunity to live there! I hope that Olivia and I will be able to make a great project, it is not easy but it is captivating.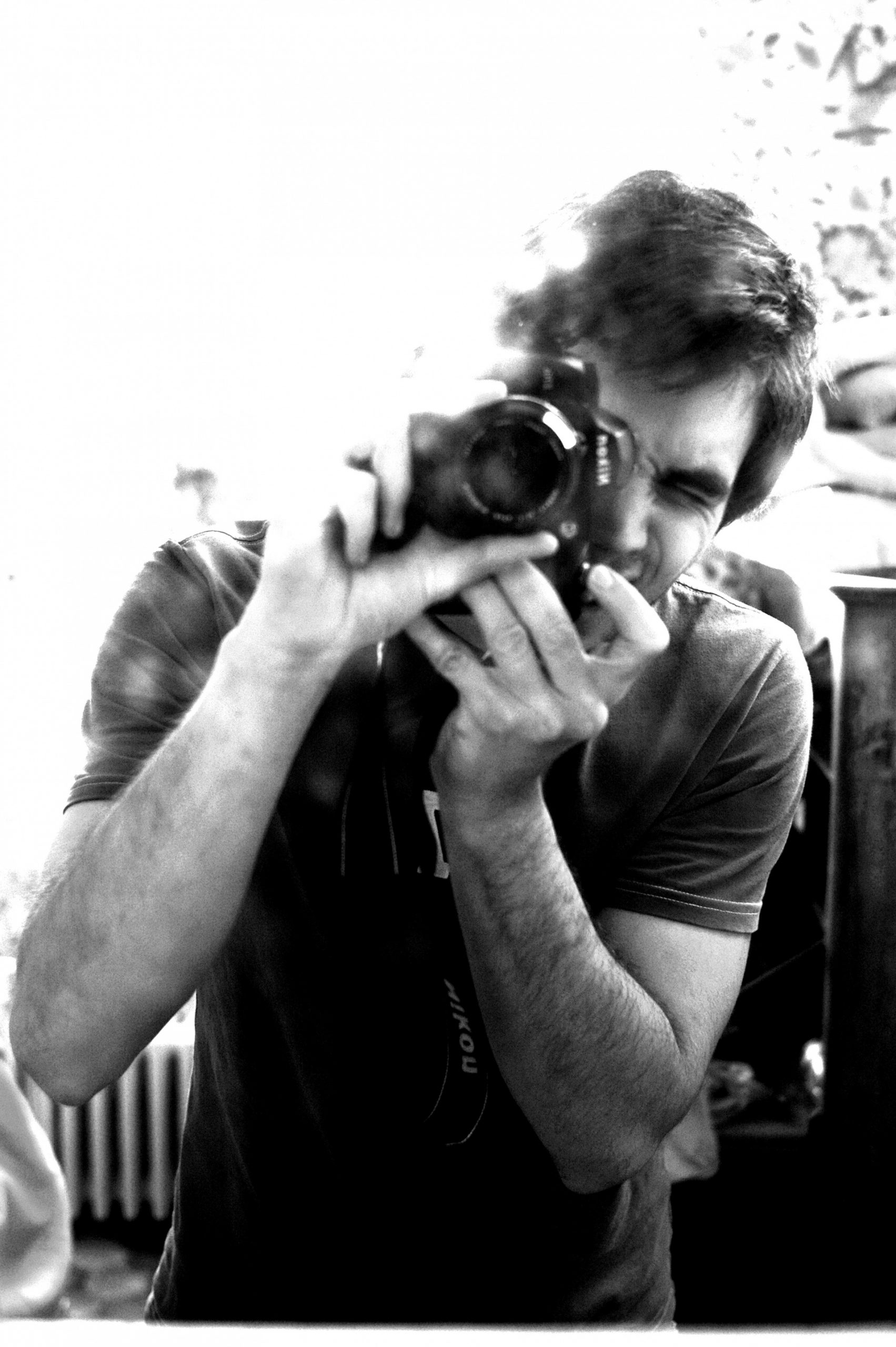 - Do you have a message for the people in Japan.
Thank you very much for welcoming me into your great country and into your life, I hope I will be up to it!
Text/Akiko Tomita
______________________________________________________________________
Pierre-Elie de Pibrac   Photographer   
The grandson of the photographer Paul de Cordon, Pierre-Elie de Pibrac was born in Paris in 1983. He began to work in reportage in 2007, photographing in Cuba and Myanmar. After graduating from a prestigious business school in 2009, he devoted himself to photography. Moving to New York in 2010, Pierre-Elie produced his first major project, American Showcase and then in 2012 Real Life Super Heroes. He spent 8 months from 2016 living in Cuba where he produced the Desmemoria series featuring the Azucareros people who work in the sugar industry. This was published in October 2019 by Editions Xavier Barral.