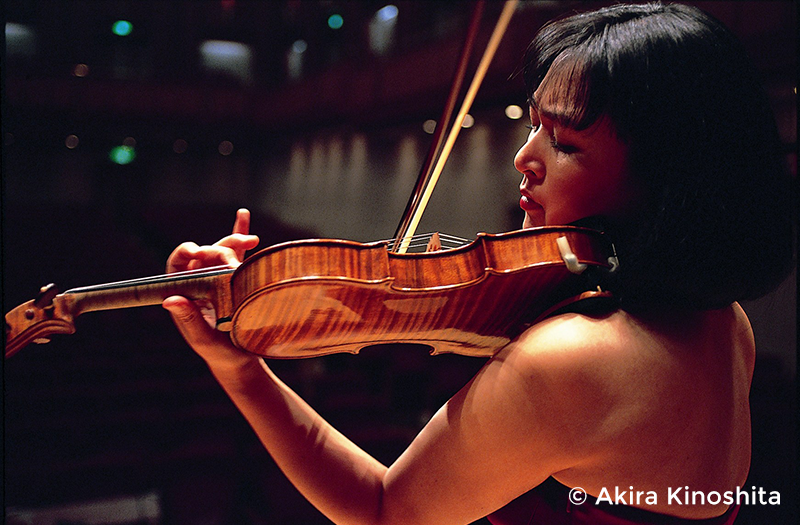 Yayoi Toda studied in the music department of Toho Gakuen High School in Tokyo and after graduating at the top of her class from Toho University, she went to Europe for further studies at Amsterdam's Sweelinck Music Academy. In 1993 she came to the attention of classical music world when she was awarded first prize at the Queen Elisabeth International Music Competition in Belgium.
Her overseas performances have included concerts with the London Philharmonic Orchestra, the Moscow Philharmonic, the Prague Chamber Orchestra, the Bonn Beethovenhalle Orchestra, the Hague Residentie Orchestra, the Radio Chamber Orchestra (Holland), the Swedish Radio Symphony Orchestra, the Helsinki Philharmonic, the Singapore Symphony, the Academy of St. Martin-in-the-Fields, and the Deutsche Kammerphilharmonie Bremen to name but a few, as well as many of Japan's major orchestras. She has also performed to rave reviews with artists including Seiji Ozawa, Yuri Simonov, Jean Fournet, Gary Bertini, Kenichiro Kobayashi, Martha Argerich, Stanislav Bunin, Peter Eötvös, Shlomo Mintz, Jean-Jacques Kantorow, and Alexander Schneider.
In 1996, Ms Toda received the Delay Scholarship to study for one year at the Juilliard School and won the Young Concert Artists International Audition. A year later she made her highly acclaimed New York debut and performed the Violin Concerto No. 2 by the Dutch composer Tristan Keuris (1946-1996), of which she is the dedicatee, at the Concertgebouw. In 1999 Ms Toda curated a recital centering around chamber music entitled "Yayoi and Friends" at Carnegie Hall in 1999.
Yayoi Toda has made recordings such as "Enesco, J.S. Bach" and "J.S. BACH: SONATAS&PARTITAS for Solo Violin BWV1001-1006" from the Ongaku-no-Tomo record label, "Six Sonatas for Violin Solo of Ysaye", the precious favorite violin pieces "RÊVE D'ENFANT" and "Sonatas for solo violin in 20th century" from EXTON.
URL;
http://yayoi-toda.com/ /
(As of June 2014)